Pictures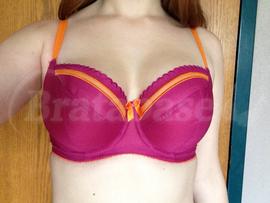 Measurements
Measurement
Cm
Search by measurements
Fits ribcage
0.0
B. perimeter
0.0
Stretched Band
78.7
Band Length
61.0
Stretch ratio
1.3
Cup width
14.0
Cup depth
25.4
Depth ratio
1.8
Wire length
24.1
Cup height
0.0
Cup separation
1.9
Gore height
7.6
Wing height
8.9
Strap width
1.3
Hooks
2
Compare to your bras
Labeled as
| | |
| --- | --- |
| Index | 30:8 |
| EU | 65H |
| UK | 30FF |
| FR | 80FF |
| AUS | 8FF |
| US | 30 5DH |
Review
Lovely color, very bright without being too neon or juvenile. I'm not a huge fan of orange but I think they made it work here.

I like that it gives me a nicely rounded but also projected shapes. I like my bras to lift my boobs up and out, and this does the job reasonably well.

The shape change at the very top is a little weird, but I think it works on my boobs. The one thing I don't like is that it tends to wrinkle a little right around there, even though my breast is completely filling the space, so I think it's a slight shape issue. It doesn't really show under clothes so it doesn't bother me too much.

It fits overall pretty well. I think the wires could be a little shorter and the gore is much higher than I like, but other than that I don't have many complaints. I also fit this bra in 28G in the aqua colorway.
Updated on Mar 20, 2015 Flag this
---
Fit information
On Jan 2015 It fit her!
Fits well, though I wish the wires were a little narrower/shorter.
Bras that fitted her next to this