Pictures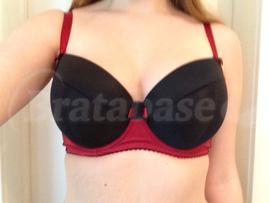 Measurements
Measurement
Cm
Search by measurements
Fits ribcage
0.0
B. perimeter
0.0
Stretched Band
73.7
Band Length
53.3
Stretch ratio
1.4
Cup width
13.5
Cup depth
25.4
Depth ratio
1.9
Wire length
23.5
Cup height
0.0
Cup separation
1.3
Gore height
7.6
Wing height
10.2
Strap width
1.3
Hooks
3
Compare to your bras
Labeled as
Review
First off, this is a gorgeous bra. The red is such a deep and rich color, and it goes perfectly with the true black. I adore the bows, which aren't the pouty little bows you usually see on lingerie but that very classic rectangle shape I'm more used to seeing on hats or shoes. I feel like a movie star in this bra, like I should be wearing long silk gloves and carrying around a cigarette holder the length of my forearm.

The material is sturdy and comfortable, as I have come to expect of Comexim. The band is comfortably snug. The cups are fairly thick and luxurious. The cups are nicely projected and spacious, with lots of room up top, which is, I think, why I fit into it well despite fitting best in 65Js these days.

The gore does what all gores do on me and sort of bends itself into a V-shape, but it's completely comfortable and tacks so I don't mind at all.

Lovely bra, I highly recommend. If you're in between sizes or suspect you're steadily growing this might be a good bra as the shape is very accommodating; the lack of any sort of ribbon or border at the top of the cup lets it curve to suit your breast.
Updated on May 16, 2015 Flag this
---