Another round of EM bras to try! These are all what I could find in my sizes for sale in the US, do somewhat limited. All of the 75Fs on these have three hooks instead of the 2 on the SF Iris, which I prefer but I think it kinda wierd?? All are without extenders, like the Iris I feel like I'm between a 75 and an 80 band.

Aesthetically this bra is not terribly appealing but its a good functional nude color and the pearl and bow are cute. Probably about as flat as you can expect a cut and see bra to be.

Like the PL, I almost ... feel like theres something almost east-west happening on some of these pics?? I like the lower cup height, and lower gore, and less fabric at the strap attachment. The band feels ok and after breaking in I think would be fine. I tried an 80 and it was definiltey too big. It gives good lift, but I'm already sort of migrating toward the center, and In worried as I settle into it I'm going to spill out the center and then be gapping near the straps. I tried it with both cookies. I definitely need the cookie on the smaller side, could go either way on the larger. You can see in the side view a black mark (2 actually, but the one closer to the underwire marks the edge of my roots), and this bra is a little wider than that. I dont think I could get in a smaller cup size though, I think the center edges would dig in badly.

Overall I'm mostly confused by this bra, I can't really tell if it fits!
Read more
177 more words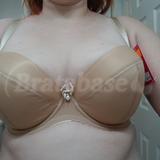 The S may not be better than the PL?
Ewa Michalak
S Orzechowa Pralinka (711)
1 suggestion
This bra is not owned any more
Updated on Dec 17, 2019 Flag this