Pictures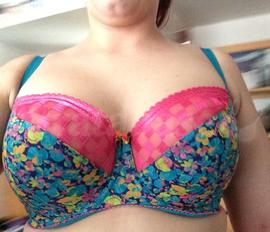 Measurements
Measurement
Cm
Search by measurements
Fits ribcage
0.0
B. perimeter
0.0
Stretched Band
79.0
Band Length
68.0
Stretch ratio
1.2
Cup width
14.5
Cup depth
30.5
Depth ratio
2.1
Wire length
30.3
Cup height
0.0
Cup separation
2.0
Gore height
8.8
Wing height
11.0
Strap width
2.5
Hooks
2
Compare to your bras
Labeled as
| | |
| --- | --- |
| Index | 32:9 |
| EU | 70G |
| US | 32 6D/I |
| FR | 85G |
| AUS | 10G |
| UK | 32G |
Review
Really like this bras bright colors and patterns!
Bra construction/visual
Bottom mesh is slightly stuff but it should loosen up with wear. The pattern is really pretty. Lace looks like it will hold up well. Just wish it was a 3x3 hook

Fit
I think think this bra would give me good lift but it does. I get a slight indent where the bottom of the cup meets the lace but maybe as I break the bra in it will stretch out. Also the wires are really staight so I will probably need to bend them to fit my ribcage better. Also maybe bend the gore slightly away from my body. But technically it's a perfect fit. it give a nice round shape and my breasts are quite squishy I think. Also gives slight cleavage.
Updated on Mar 26, 2015 Flag this
---
Fit information
On Feb 2015 It fit her!
It's surprisingly a perfect fit! with only slight slight issues
Bras that fitted her next to this