Pictures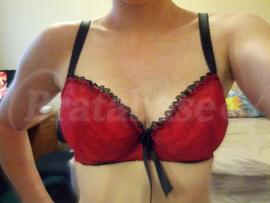 Measurements
Measurement
Cm
Search by measurements
Fits ribcage
0.0
B. perimeter
0.0
Stretched Band
72.5
Band Length
52.5
Stretch ratio
1.4
Cup width
13.5
Cup depth
25.8
Depth ratio
1.9
Wire length
23.2
Cup height
0.0
Cup separation
1.4
Gore height
4.8
Wing height
10.9
Strap width
1.5
Hooks
2
Compare to your bras
Labeled as
Review
This is probably my best fitting bra so far. Wires are almost right but probably an inch of empty areas in the outer halves of the cups. The band is good and fits like a 28 rather than a true UK 30. I get very slight gaps near the top because the bra expects a bit more fullness there than I have and there is borderline not enough room near the centre gore (I have very centre-full breasts).
Updated on Feb 12, 2015 Flag this
---
Fit information
On Nov 2015 It fit her!
On Sep 2013 It fit her!
Bras that fitted her next to this