Pictures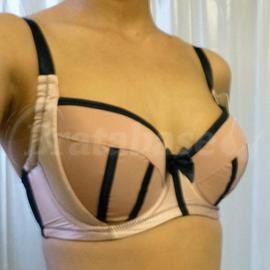 Measurements
Measurement
Cm
Search by measurements
Fits ribcage
0.0
B. perimeter
0.0
Stretched Band
69.9
Band Length
58.4
Stretch ratio
1.2
Cup width
13.0
Cup depth
20.3
Depth ratio
1.6
Wire length
23.4
Cup height
0.0
Cup separation
2.5
Gore height
6.9
Wing height
8.6
Strap width
1.8
Hooks
2
Compare to your bras
Labeled as
| | |
| --- | --- |
| Index | 28:7 |
| EU | 60F |
| UK | 28F |
| FR | 75F |
| AUS | 6F |
| US | 28F |
Review
This bra is absolutely beautiful and I wish it fit better. Got the Dusty Rose color and tried it on for ten minutes. My shape: short, narrow roots, somewhat even with more bottom projection, fuller in the center with less tissue on the sides, short torso.

Very comfortable and firm band, largely due to the vertical boning on the wings to help the elastic not roll and cut into you.

Unexpectedly narrow wire width at 5.1". For once, I didn't notice the wires bothering me at all, which was amazing.

The cups are a little shallow in bottom and center for the size--I got minimal quadboob toward the center because this was a balconette plunge style and not a full balconette. I don't think the cups run small--if my tissue had filled the top of the cups (meaning if my boobs were tall enough, not FOT enough), I think the volume would seem like a standard 28F.

Tall cups (6" tall from highest point to bottom wire measured vertically). I don't need the top inch of cup at all--the distance from my armpit to inframammary fold is about 5.5", so my breasts are even shorter than that. So, unfortunately, my arms were pushing the bra down so it wouldn't stay in the right place, and when I slouched even a little, the top triangular edges gapped.

The center gore was too wide--I prefer 0.7" or less, or else the wires end up sitting on my boobs in the center.

The straps were a little too far apart, but this is always an issue with me (my weird ribcage is smallest at the top and largest at the bottom).

The construction is sturdy, the design is great, the materials thoughtful (matte cups with satin side support panels) and the bra itself is kind of heavy--the wires are thick and don't bend easily. Overall, wish I could have a version that fit me.

Hope this review, measurements, and photos helped you!
Updated on Jan 22, 2014 Flag this
---
Fit information
On Nov 2013
Strap separation:

Are too far apart


Cups separation:

Too separate for my boobs

This bra didn't fit her, but these did