Pictures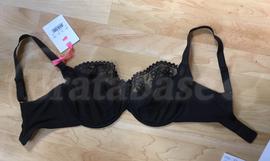 Measurements
Measurement
Cm
Search by measurements
Fits ribcage
0.0
B. perimeter
0.0
Stretched Band
77.5
Band Length
63.5
Stretch ratio
1.2
Cup width
14.5
Cup depth
26.2
Depth ratio
1.8
Wire length
30.7
Cup height
18.4
Cup separation
2.5
Gore height
6.6
Wing height
10.2
Strap width
1.3
Hooks
2
Compare to your bras
Labeled as
| | |
| --- | --- |
| Index | 32:9 |
| EU | 70G |
| US | 32G |
| FR | 85G |
| AUS | 10G |
| UK | 32g |
Review
This was one of the 8 bras I tried in my first Amazon Prime Wardrobe Box! (Sadly, 8/8 did NOT fit)
I had read so many glowing reviews of this that I just HAD to try it! I was hoping it would fit me as well as/on par with my Ewa Michalaks, since Cleo bras are a lot easier to get in the States. Alas, it was not meant to be! I think the cups aren't projected enough? I was getting some weird smooshage on the bottom of the cup, as if there wasn't enough space for my soft tissue. The tops of the cups felt fine, but the bottom had this weird shape like it was squishing me in there. I was pretty disappointed, especially since this bra is so cute!
I generally don't like bras without more than 3 hooks, but if this had fit me better, I would have made concessions for the fact that it only has 2. Ah, well.
I think I will try a 30GG and a 32GG next time I make a Prime Wardrobe order, as long as they are eligible. Here's hoping!
Updated on Jun 02, 2018 Flag this
---
Fit information
On May 2018 It fit her!
Gives a weird shape, and doesn't feel deep/projected enough
Bras that fitted her next to this