Pictures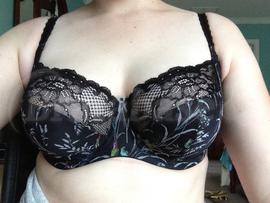 Measurements
Measurement
Cm
Search by measurements
Fits ribcage
0.0
B. perimeter
0.0
Stretched Band
82.6
Band Length
64.8
Stretch ratio
1.3
Cup width
14.7
Cup depth
27.9
Depth ratio
1.9
Wire length
29.2
Cup height
0.0
Cup separation
1.9
Gore height
8.4
Wing height
10.2
Strap width
1.7
Hooks
2
Compare to your bras
Labeled as
| | |
| --- | --- |
| Index | 32:8 |
| EU | 70FF |
| UK | 32FF |
| FR | 85FF |
| AUS | 10FF |
| US | 32FF |
Review
I got this on sale because I needed at least one black bra. I've not had good luck in the past with Panache bras because the wings on the side come up too high and I can never seem to find a happy medium with the cups. However, this bra fits well across the top thanks to the stretch lace, and the wings don't come up far enough to poke. It gives me a decent shape without padding.
Updated on Jun 12, 2013 Flag this
---
Fit information
On Jun 2015 It fit her!
On Feb 2014 It fit her!
On Oct 2013 It fit her!
On Jun 2013 It fit her!
Bras that fitted her next to this