Pictures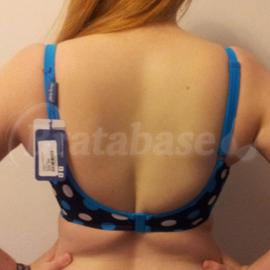 Measurements
Measurement
Cm
Search by measurements
Fits ribcage
0.0
B. perimeter
0.0
Stretched Band
76.5
Band Length
62.0
Stretch ratio
1.2
Cup width
17.0
Cup depth
33.4
Depth ratio
2.0
Wire length
35.2
Cup height
0.0
Cup separation
2.6
Gore height
9.7
Wing height
11.8
Strap width
1.8
Hooks
0
Compare to your bras
Labeled as
Review
I wrote a review on my blog when I was around a 30KK in most bras, and at that time I found the Pebble to be a fairly good fit, though slightly small in the cups (not a big problem considering swimsuits tend to have a bit more give when wet). At the moment (May 2014) I've gone down slightly in size, so the Pebble is now pretty spot on in size. As with all bras, I'd prefer the gore to be slightly narrower and shorter, as I'm quite close-set, but it doesn't pose a huge problem. I find the construction of this bra much better than most CK bras - the band is true-to-size and deeper than the previous bikinis, the wires are average to narrow, cups average to deep, it is upfront and centre, nice uplifted shape, and the sides are low enough to not irritate around my arms. It's also very supportive and comfortable, with a gorgeous appearance to boot. All in all I am a big fan of this bikini!
Updated on Jun 02, 2014 Flag this
---
Fit information
On May 2014 It fit her!
On Jul 2013
Strap separation:

Not a problem


Bottom of the cup:

Can't quite fill it


Top of the cup:

Cuts into breast tissue (quad boob effect)


Cups separation:

Too separate for my boobs

Bras that fitted her next to this