Pictures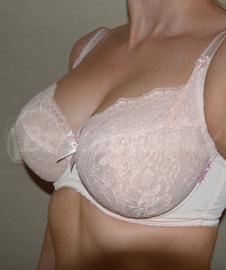 Measurements
Measurement
Cm
Search by measurements
Fits ribcage
0.0
B. perimeter
0.0
Stretched Band
74.0
Band Length
60.0
Stretch ratio
1.2
Cup width
13.5
Cup depth
25.5
Depth ratio
1.9
Wire length
25.0
Cup height
0.0
Cup separation
1.0
Gore height
7.0
Wing height
11.0
Strap width
1.9
Hooks
3
Compare to your bras
Labeled as
Review
Very soft and nice bra. It gives a bit less rounded shape than my other EM bras. I was not quite sure about the color when I ordered it, but I love it on me. Size again same as all other EM bras I have. I love the stringi that I ordered with it, very soft - stretchy and leaves no lines on my drop-waits while wearing.
Updated on Jul 17, 2015 Flag this
---
Fit information
On Apr 2016 It fit her!
On Jun 2015 It fit her!
Bras that fitted her next to this