Pictures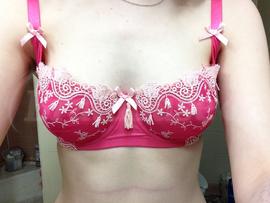 Measurements
Measurement
Cm
Search by measurements
Fits ribcage
0.0
B. perimeter
0.0
Stretched Band
74.9
Band Length
60.0
Stretch ratio
1.2
Cup width
13.3
Cup depth
21.3
Depth ratio
1.6
Wire length
22.4
Cup height
0.0
Cup separation
2.4
Gore height
7.3
Wing height
9.4
Strap width
1.4
Hooks
2
Compare to your bras
Labeled as
| | |
| --- | --- |
| Index | 30:5 |
| FR | 80E |
| JP | F65 |
| US | 30DD |
| AUS | 8DD |
| UK | 30DD |
| EU | 65E |
Review
Surprisingly firm band for a 30. I was at first apprehensive of the support I would get from this bra; the straps seemed very wide-set. However, I like the shape and support I do get from it, though there seems to be some strange wrinkling in the bottom of the cup that would be absent if the straps were closer. With that said, the straps aren't wide-set to the point where I fear they will fall off my shoulders. I do wonder if it would be ample support in larger cup sizes, though.

The style is pretty cute; the only thing I dislike is the tassel in the middle.

I have the matching panties for this bra, and I am so excited!

EDIT 26 Jan 2015: I guess I feel now like I'm actually not getting a lot of support from this bra. It's great for dressing up for sexy times with an SO, but it isn't so much an every day bra. The cup material is pretty flimsy actually, or just not very firm--very different from the stiff unlined Cleos like Marcie, Lily, etc. Probably best for FoT though works well for even. Not very shallow.
Updated on Jan 26, 2015 Flag this
---