Pictures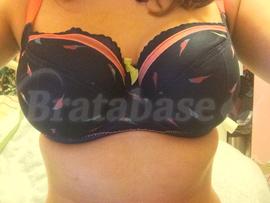 Measurements
Measurement
Cm
Search by measurements
Fits ribcage
0.0
B. perimeter
0.0
Stretched Band
78.7
Band Length
63.5
Stretch ratio
1.2
Cup width
14.5
Cup depth
27.9
Depth ratio
1.9
Wire length
30.5
Cup height
0.0
Cup separation
1.3
Gore height
8.9
Wing height
10.2
Strap width
1.9
Hooks
2
Compare to your bras
Labeled as
| | |
| --- | --- |
| Index | 30:10 |
| EU | 65GG |
| UK | 30GG |
| FR | 80GG |
| AUS | 8GG |
| US | 30GG |
Review
This was supposed to be my perfect fit bra. My boobs are uneven. The left is slightly larger, and it fills up the cup fantastically (maybe even a slight quadboob on some days). The right is less large, and the cup gapes at the top a little. I'm not actually a huge fan of non-moulded or padded cups, but I love the parrot print, the padded straps, and it's great for clothes that I want to de-emphasize my bust in, where I'd get major spillage and quadboob if I wore a moulded style bra.
Updated on Jul 18, 2014 Flag this
---
Fit information
On Jul 2014 It fit her!
On May 2014
Center gore comfort:

Underwires dig into sternum, because they are too high


Strap separation:

Not a problem

Bras that fitted her next to this