Pictures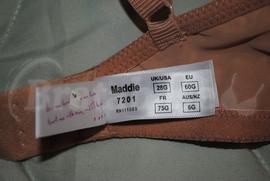 Measurements
Measurement
Cm
Search by measurements
Fits ribcage
0.0
B. perimeter
0.0
Stretched Band
0.0
Band Length
58.4
Stretch ratio
0.0
Cup width
14.0
Cup depth
22.9
Depth ratio
1.6
Wire length
25.4
Cup height
0.0
Cup separation
2.2
Gore height
6.4
Wing height
10.2
Strap width
1.3
Hooks
2
Compare to your bras
Labeled as
| | |
| --- | --- |
| Index | 28:9 |
| EU | 60G |
| US | 28G |
| FR | 75G |
| AUS | 6G |
| UK | 28G |
Review
Cup height (measured up the center outside): 6.25"

I ordered this in both 28FF and 28G, having read that this model can run small, but now I think I'm toeing the line between 28FF and 28G (or, more accurately, 26G and 26GG) anyway.

The 28FF gives better (phenomenal!) cleavage for my short-rooted, high-set breasts; the 28G acts more as a full-coverage bra than a half-cup on me but fits better overall, I think. There's no gapping and it seems to follow the shape of my breast better than the 28FF, which feels like it's cutting in at the top a little prematurely, giving me some quadboob and thus enhancing the cleavage factor.

I wish I could have a good fit and good cleavage out of the same size, but I may end up keeping both of these for different purposes!

The band is nice and snug and the straps are thin and fully adjustable, which is wonderful for my high-set chest. However, I've noticed that the straps start to hurt if I have them as tight as I'd like on most bras (perhaps because they are so thin). I still get excellent support if I loosen the straps, so this isn't an issue.

The lacy part on the top of the cup doesn't show through tight, thin t-shirts, so this would be a good alternative to the Freya Deco Half-Cup, especially if you're sized out of that like me--I've been looking for something like this for some time.

Also, I have noticed that the thin fabric on the outside of the molded cup seems to catch on EVERYTHING--fingernails, jewelry, etc. I don't think this will affect the look of the bra and I can only tell when I get close (or when something catches), but it is something to keep in mind.
Updated on Jan 05, 2014 Flag this
---
Fit information
On Jan 2014 It fit her!
On Nov 2013
Strap separation:

Not a problem


Cup's width:

There is empty fabric on the sides (Cup too wide)

Bras that fitted her next to this