Pictures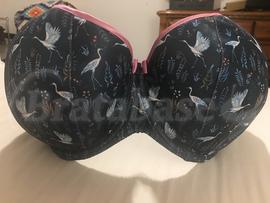 Measurements
Measurement
Cm
Search by measurements
Fits ribcage
0.0
B. perimeter
0.0
Stretched Band
110.5
Band Length
91.4
Stretch ratio
1.2
Cup width
18.4
Cup depth
33.0
Depth ratio
1.8
Wire length
33.0
Cup height
21.6
Cup separation
1.5
Gore height
9.5
Wing height
12.7
Strap width
1.5
Hooks
3
Compare to your bras
Labeled as
Review
My shape: large, heavy, narrow rooted, center full, close set, with tons of immediate projection.

I've been wanting this bra since the moment Comexim revealed it, and I was not disappointed! It's even prettier in person, and the pink edging on the top of the cup is particularly fetching. It's pretty without being fussy, which is exactly what I like.

It's comfortable, too, and the band is TTS. It seems like at least on the larger end of the spectrum it's only the bras with lace on the band that you need to order a band size up - I'd have been fine in a 42.

The gore tacks after replacing the wires with stronger ones and there's plenty of room at the wire. There isn't quite enough room for my center fullness, which is my hardest area to fit, and that ends up pushing the wires out of my imf. I'm not entirely sure if this is fixable by alteration or not, though I may try narrowing the gore to see if that helps.

It seems like the soft cup Comexims are really my best fit. Something about the soft fabric vs the padding makes the soft cups better suited to my center fullness. Still, I love the look of this one!
Updated on Sep 18, 2017 Flag this
---
Fit information
On Dec 2017 It fit her!
On Jan 2017 It fit her!
Bras that fitted her next to this