Pictures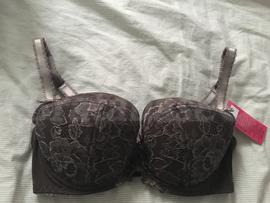 Measurements
Measurement
Cm
Search by measurements
Fits ribcage
0.0
B. perimeter
0.0
Stretched Band
79.0
Band Length
62.0
Stretch ratio
1.3
Cup width
13.0
Cup depth
22.5
Depth ratio
1.7
Wire length
22.0
Cup height
0.0
Cup separation
1.8
Gore height
5.5
Wing height
10.0
Strap width
1.5
Hooks
2
Compare to your bras
Labeled as
Review
Brown has never been my favourite colour - I dont think Ive ever owned anything in brown (all beiges, nudes etc - yes but not chocolate brown). I believe its due to im very pale and have blonde hair. When I saw the unpadded version in BM - Naomi, I wasn't interested in it at all. The original photos from website do not justify the real beauty of this bra. I felt in love when I saw couple of reviews around Bratabase - however I still didnt ordered it yet (but I will soon) !
Recently most of my 70's are quite loose (BM Klejnot, S Letnia Noc), so im usually trying to choose 65, but as the reviews for Naomi claimed that actually it runs quite tight I went with 70. The bra stretches comfortably to 79cm, thus I can wear it on the 2nd row (and theres surprise! the bra has only 3 rows instead of usual 4 rows of hooks!). The band is really comfortable and well made. So even if its quite loose its still very supportive and I can't imagine to wear it when its too tight as this could hurt.
The cups are deeper than my Letnia noc and Im wearing it with cookies inside, which results in great fit! Cups are not too tall nor too short, I have tall roots with even shape (yay! Ive been before FOB, but since I am wearing very well fiting bras my shape improved and more styles works for me ! ) and quite soft tissue. I get nice delicate cleavage which is actually quite sexy and I like the colour on my skin. Wires are perfect, 13cm - narrow enough to go around my breasts.
After all cons of this beauty, its important to mention the fact that it has 'usual' too wide strap placement. I was really hoping that it will be my next holy grail of ewas bras like the Letnia Noc, but its not. I mean its not very bad as in Paris Paris or my chps Elegance and Owoce Lesne, however it bothers my tail of spence. Definietly it is not a bra to wear for continious 12h, but for my 8h shifts its okay. I might move the straps in although I want to try wear and wash it few time and see if it will soften a little. If this wont help, I'll move these straps in.

Also, I am very surprised by reading reviews on Czekolada in M style. While mine S model with band 70 streches to 79cm, the M style in same band size seems to be 1 size smaller! that is ridiculous, as how is that possible?! Ewa should definitely work on this issue.
Updated on Oct 17, 2017 Flag this
---
Fit information
On Jan 2017 It fit her!
On Jul 2016 It fit her!
Bras that fitted her next to this