Pictures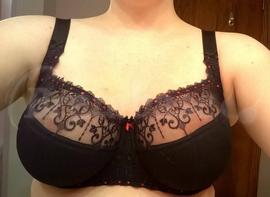 Measurements
Measurement
Cm
Search by measurements
Fits ribcage
0.0
B. perimeter
0.0
Stretched Band
84.6
Band Length
71.1
Stretch ratio
1.2
Cup width
14.7
Cup depth
30.5
Depth ratio
2.1
Wire length
29.7
Cup height
0.0
Cup separation
1.5
Gore height
9.9
Wing height
10.7
Strap width
2.3
Hooks
3
Compare to your bras
Labeled as
Review
This is from my shopping trip to Poland! Feel free to send me a message if you want any more info on that. For reference, I believe that I had short, narrow roots with a very projected, omega shape. My best Cleo fit is the Meg then Marcie/Melissa.

After trying on all the bras I bought again, I think this is one of my favorites that I've worn so far. Apparently this brand is new, as their website has nothing on it and I had to add it to bratabase.

The straps are soft but not super stretchy. I'll call it a semi-soft, with a solid, thin foam(?)/cloth bottom and a un-stretchy mesh embroidered top covered in darling sparkly red embroidered circles that look like jewels. There is a piece of elastic at the top of the embroidered part that may cut into people with taller roots/more upper fullness. The arms are cut a bit high for my liking, but just under what I'd consider annoying. The band is firm but doesn't cut in or press in too much.

The shape is just like round orbs, which I love. The wires have a nice tack but aren't harshly pressing in and seem nicely narrow to me. The projection is actually really good considering how much I need, there is minimal folding at the bottom, I feel nicely supported and lifted, and I think this would be a great addition for someone looking for the classic Polish shape once they get the website up and running.
Updated on Nov 04, 2015 Flag this
---
Fit information
On Apr 2017 It fit her!
On Feb 2015 It fit her!
Bras that fitted her next to this