Pictures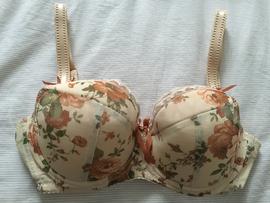 Measurements
Measurement
Cm
Search by measurements
Fits ribcage
0.0
B. perimeter
0.0
Stretched Band
75.5
Band Length
56.0
Stretch ratio
1.3
Cup width
13.5
Cup depth
19.0
Depth ratio
1.4
Wire length
22.0
Cup height
14.0
Cup separation
1.9
Gore height
7.0
Wing height
9.5
Strap width
1.7
Hooks
2
Compare to your bras
Labeled as
Review
After I saw so many reviews of this model decided o give it a go and I'm happy https://d28qt14g3opchh.cloudfront.net/smileys/icon_smile.gif" alt=":)" /> looks nice, does not make wow but it seems to be comfortable (didn't try it for whole day yet). Although, next time I'm gonna order from comexim directly and will try bra with lowered gore.
Panties are so cute! Usually I'm size medium in pants but I took large and they are quite good.

Edit - after having it for couple of weeks:
I really love it! the vintage roses print, how nicely it washes, how comfortable to wear and that stays in place for whole day! also it works under some light colours clothes, ane the wires are good in length - not to high under my armpits.
Updated on Dec 29, 2015 Flag this
---
Fit information
On Jan 2017
Top of the cup:

Cuts into breast tissue (quad boob effect)

On Jul 2016 It fit her!
On Apr 2016 It fit her!
On Aug 2015 It fit her!
Bras that fitted her next to this