Pictures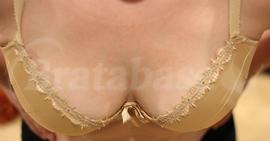 Measurements
Measurement
Cm
Search by measurements
Fits ribcage
0.0
B. perimeter
0.0
Stretched Band
92.5
Band Length
72.5
Stretch ratio
1.3
Cup width
16.0
Cup depth
22.5
Depth ratio
1.4
Wire length
27.0
Cup height
0.0
Cup separation
2.0
Gore height
5.5
Wing height
10.0
Strap width
1.2
Hooks
2
Compare to your bras
Labeled as
Review
Me: Full on bottom, close set in front, splayed with wide root. Soft from breastfeeding two kids. Turns out VERY hard to fit in a bra.

This bra gives me an absolutely idea rounded shape. The cups hold my breasts up and forward with a lot of vertical seaming. The fabric is soft and luxurious. The ONLY thing I don't like is that the seaming shows through my shirts. But at least the bra fits.

I still get slight gapping if my posture isn't perfect but I think this may be a way of life for me!
Updated on Apr 25, 2013 Flag this
---
Fit information
On Apr 2013 It fit her!
On Apr 2013 It fit her!
Bras that fitted her next to this