Pictures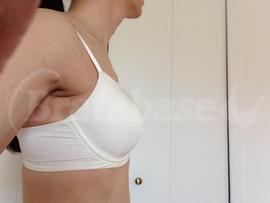 Measurements
Measurement
Cm
Search by measurements
Fits ribcage
0.0
B. perimeter
0.0
Stretched Band
76.2
Band Length
61.0
Stretch ratio
1.3
Cup width
15.2
Cup depth
19.1
Depth ratio
1.3
Wire length
21.0
Cup height
0.0
Cup separation
1.9
Gore height
4.4
Wing height
8.3
Strap width
1.3
Hooks
2
Compare to your bras
Labeled as
Review
My size 30D in this bra is almost perfect, so I decided to try sizing up and am happy to find the 30DD works great. It's comfy to wear all day and creates a nice shape. It is one of the best solutions I have found in my 2013 quest for some everyday bras that fit!
Updated on Mar 13, 2013 Flag this
---
Fit information
On Feb 2013 It fit her!
Bras that fitted her next to this