Pictures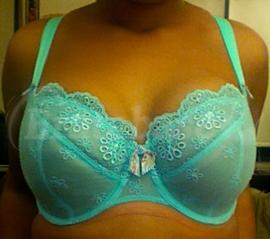 Measurements
Measurement
Cm
Search by measurements
Fits ribcage
0.0
B. perimeter
0.0
Stretched Band
78.0
Band Length
60.0
Stretch ratio
1.3
Cup width
14.3
Cup depth
26.0
Depth ratio
1.8
Wire length
28.0
Cup height
0.0
Cup separation
2.8
Gore height
0.0
Wing height
0.0
Strap width
1.8
Hooks
2
Compare to your bras
Labeled as
Review
This bra is super cute and comfortable! It gives great shape from all angles, and I'm glad I bought it! The straps aren't fully adjustable, but, even given my small frame (I'm only 4'11), I don't anticipate that being a problem, because the band is so supportive.

My only qualm is that, without proper adjustment, the seam connecting the top section to the rest of the bra can squeeze just a little bit. I considered a size up, but the 28H is much to large!
Updated on Mar 28, 2012 Flag this
---
Fit information
On Mar 2012 It fit her!
Bras that fitted her next to this