I think I will share this on the front page because Mariella is not one you hear about as much as other Elomis - only one review on Bratabase! - but it's a very nice bra and deserves more attention.

First the basics of its construction: The lower cups are made of a non-stretch silky fabric, while the top cups are of stretch lace with an upper band of elastic that might cut in for FOT ladies. The patterned fabric of the cup continues up the straps and across the bands, where it is lined with a soft elastic fabric to allow stretching. The wires are relatively flexible ... and on the outer side are about 1/2 inch shorter than the fabric of the wings, allowing for some cushion.

The Mariella is supposed to be based on the Elomi Morgan, and it has a lot of similarities. Someone I read, though, compared it to a cross between the Morgan and the Kim, and I'd say that's about spot on. The bottom cup is like Morgan's - deeper and rounder than Kim's - but with more projection than the Morgan. The result is a nice "green" shape - pointier than Morgan, rounder than Kim, and less extreme than Panache Jasmine.

To top it off, Mariella is both pretty and very comfortable.

I may try this in a 34J to compare, but I'm afraid I'll lose my tack. I'm technically a 36 band, but I noticed with other Elomis that the bands are pretty stretchy. I have to wear my 36HH Morgan on the tightest hooks and the band still rides up. I'm using an extender with this Mariella and it seems to be about right.

I think the fit and shape on this one look pretty good compared to what I've tried so far, but I'm still trying to figure this all out. Would a 34J be better? Do the wires look too wide or narrow? Right now I think I'm FOB/even and especially outer full; I think wide roots, but hard to tell. There is no doubt about being super projected and pendulous. Gravity pulls the whole structure down and out, but there is tissue on the top that is very happy to fill out when the bottom is supported. Does anything about how the Mariella fits give clues about my shape to the educated eye?

Are the cups projected enough for me? Heck no! Nothing is. There's a little folding over of the fabric at the wire. But it's not bad.

Is there some wrinkling at the side of the cups, especially on my smaller breast? Of course! But I can live with that.

Does it stay tight in my IMF? Don't be silly, why would it do that? Nothing does. *Every* bra I've tried eventually settles down about an inch or so, all landing in roughly the same place. Straps and band tighter or looser, it doesn't seem to make much difference. I guess that's just my anatomy?

Maybe someday I'll find the true unicorn, but until then, this Mariella seems pretty close.
Read more
404 more words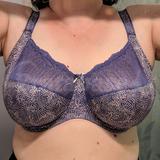 Getting close? Maybe a cigar?
Elomi
Mariella Banded Bra (EL4420)
2 suggestions
Blue Bird colorway
Updated on Jun 20, 2019 Flag this