Pictures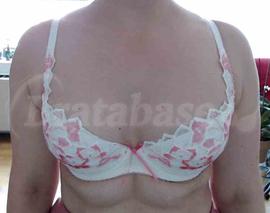 Measurements
Measurement
Cm
Search by measurements
Fits ribcage
0.0
B. perimeter
0.0
Stretched Band
79.0
Band Length
57.7
Stretch ratio
1.4
Cup width
14.9
Cup depth
16.8
Depth ratio
1.1
Wire length
20.3
Cup height
13.5
Cup separation
2.0
Gore height
3.5
Wing height
7.4
Strap width
1.2
Hooks
2
Compare to your bras
Labeled as
| | |
| --- | --- |
| Index | 30:5 |
| EU | 65E |
| FR | 80E |
| UK | 30DD |
Review
For reference, I have a fairly shallow shape and my breast tissue is wide-set.
Of all of the bras meant to give lift or extra volume, this one is better than average for my wide-set frame. It's comfortable enough to wear all day although the straps are too wide for someone of my stature (I'm 5'1"). I'd like them to rest more centered on my shoulders. Wearing this with a bodycon outfit is problematic because the lace is very texturized. It also makes my breasts look pointy (which isn't really my preferred look), so I usually wear this bra with looser fitting clothing. This bra isn't perfect, but it's much better than many others I've tried for lift or the semblance of some cleavage.
Updated on Oct 07, 2021 Flag this
---
Fit information
On Nov 2021 It fit her!
On Oct 2021 It fit her!
On Sep 2021 It fit her!
Bras that fitted her next to this