Pictures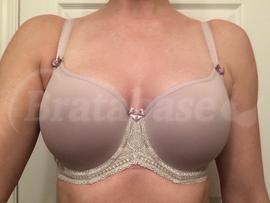 Measurements
Measurement
Cm
Search by measurements
Fits ribcage
0.0
B. perimeter
0.0
Stretched Band
77.0
Band Length
63.0
Stretch ratio
1.2
Cup width
13.3
Cup depth
24.0
Depth ratio
1.8
Wire length
23.5
Cup height
15.5
Cup separation
2.4
Gore height
7.5
Wing height
10.5
Strap width
1.5
Hooks
2
Compare to your bras
Labeled as
| | |
| --- | --- |
| Index | 32:6 |
| EU | 70E |
| US | 32E |
| FR | 85E |
| AUS | 10E |
| UK | 32E |
Review
This is my third try in this bra. I previously tried 30E - Panache » Cari Moulded Spacer Bra (7961) , but the cups were too small. Then I tried 28FF - Panache » Cari Moulded Spacer Bra (7961) , which is a bit tight but fits well, and now I'm trying this 32E. The band fits like a 30" bra. For best fit, I'll have to wear it on the second or third hook. I measured the band until the cups started to distort, though it could have stretched further with a hard pull. It fits very well and is very comfortable with the looser band. I wanted a bra for everyday wear at work or on full day of bra wearing. I think this size will do just fine, and I'm glad it's the "dove" colour and not the plain beige like the 28FF. I haven't worn any of them for a full day yet because I haven't decided yet if I'm keeping the 28FF, but I'll give this one a try tomorrow at work. If I have anything to add, I'll edit this review.

Overall, great quality, great fit and great appearance.
Updated on Nov 25, 2020 Flag this
---
Fit information
On Sep 2020 It fit her!
Band a bit big but will wear it on tighest hook
Bras that fitted her next to this