Pictures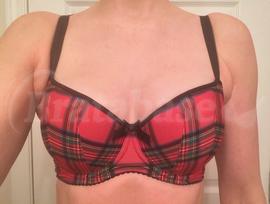 Measurements
Measurement
Cm
Search by measurements
Fits ribcage
0.0
B. perimeter
0.0
Stretched Band
72.0
Band Length
55.0
Stretch ratio
1.3
Cup width
13.7
Cup depth
23.0
Depth ratio
1.7
Wire length
22.7
Cup height
15.5
Cup separation
1.8
Gore height
7.3
Wing height
10.0
Strap width
1.6
Hooks
3
This bra's measurements have been altered

Altered band, Altered straps, Straps moved in 1cm, made as a 60 band, made as a 3HC,
Compare to your bras
Labeled as
Review
My shape is low set, short and narrow rooted, and soft.

This bra is a 3HC (half cup with two vertical lines). I ordered this as a 60 band because my 65 bands were feeling too loose, and I'm glad I did. It feels perfect, and there are 4 x 3 sets of hooks to fasten it. The straps are nice and wide and they adjust long enough for my low set/tall frame. The pattern is super cute and playful, and I love having this bra because most of my bras have no pattern. The shape is typically rounded for a half cup, and I get just some slight quadding on my larger side after I scoop and swoop. This cup has a thin lining along the cups upper edge, which is good so there's no gaping along the cup edge. The material is cottony on the inside and outside, and the band is a bit stretchy. I gave it a fairly good pull to get my measurements, but it could have stretched further.... I just didn't want to distort the cups.I requested straps moved in 1cm, overlapping gore. The gore is not overlapped but it is quite narrow and still fits.

Overall excellent quality, excellent comfort (as always with Comexim bras), and excellent appearance.
Updated on Dec 27, 2019 Flag this
---
Fit information
On Sep 2020 It fit her!
On Jan 2020 It fit her!
On Nov 2019 It fit her!
Bras that fitted her next to this