Pictures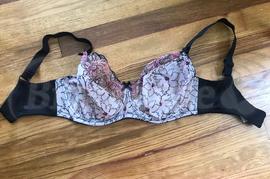 Measurements
Measurement
Cm
Search by measurements
Fits ribcage
0.0
B. perimeter
0.0
Stretched Band
84.8
Band Length
66.0
Stretch ratio
1.3
Cup width
15.5
Cup depth
30.0
Depth ratio
1.9
Wire length
29.5
Cup height
21.1
Cup separation
1.8
Gore height
7.6
Wing height
10.2
Strap width
2.3
Hooks
3
Compare to your bras
Labeled as
Review
My shape: soft tissue, FOB, narrow shoulders

This is a really well made bra and is a lot cuter in person than the pictures show. The embroidery is beautiful!
I ordered it from Tina at Aphrodite's Closet in Texas. She is super nice, quick to reply, and very knowledgable about Polish brands.
As far as fit, I had to take in the straps and the elastic along the armpit edge. These are a lot wider set even than Ewa Michalak bras. After the surgery, however, it fits me a lot better.
There isn't stretch lace on this model, so I was worried it wouldn't lay flat along the top edge. I was pleasantly surprised when it did.
The wires aren't as U-shaped as other Polish brands.
Overall, this is a nice Polish brand, but I prefer Ewa Michalak.
Updated on Jul 12, 2019 Flag this
---