Pictures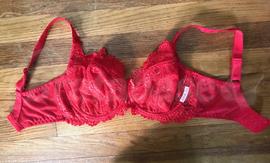 Measurements
Measurement
Cm
Search by measurements
Fits ribcage
0.0
B. perimeter
0.0
Stretched Band
81.8
Band Length
61.5
Stretch ratio
1.3
Cup width
13.7
Cup depth
26.7
Depth ratio
1.9
Wire length
26.7
Cup height
21.6
Cup separation
1.8
Gore height
7.1
Wing height
10.4
Strap width
2.0
Hooks
3
Compare to your bras
Labeled as
Review
My shape: FOB, soft tissue, narrow frame

How to I love this bra? Let me count the ways!

I feel sorta bad, reading some of the other recent reviews of BM bras ordered by you guys; this is the first BM I've received of my order of four, and it fits like a dream. It's seriously perfect, even the straps! I'm not sure what is so different about this particular bra's straps compared to the other BM styles I have, but I don't have any need to move them narrower. It's amazing.
Plus, this bra is my favorite color. It's the brightest red. Soooo pretty. I love it so much!
Here's hoping the other three I ordered fit just as well! (Brownie, Apricot, and the new petrol blue one that I don't actually remember the name of)

Also, what are the little number tags that are sewn on the inside, near the wires? Does anyone know what they are for? All of my Ewa bras have tiny white tags with numbers on them, but they are all different. I wonder if it's the number of the seamstress who sewed that particular bra?
Updated on Apr 02, 2019 Flag this
---