Pictures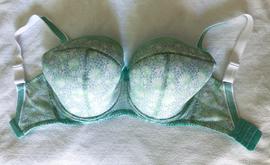 Measurements
Measurement
Cm
Search by measurements
Fits ribcage
0.0
B. perimeter
0.0
Stretched Band
72.4
Band Length
55.9
Stretch ratio
1.3
Cup width
15.6
Cup depth
33.0
Depth ratio
2.1
Wire length
29.2
Cup height
21.6
Cup separation
1.6
Gore height
10.2
Wing height
11.7
Strap width
1.9
Hooks
3
This bra's measurements have been altered

Altered straps, Straps moved in 2cm, reduce cup height 1 cm
Compare to your bras
Labeled as
Review
This is an older Comexim model and seems to have less projection at the wire than my newer model Graffiti and Hot Chocolate. I get some wrinkling of the fabric near the wire. I had requested the cup height reduced 1cm, and the straps moved in 2cm. They reduced the cup height but did not move in the straps, as I have two bras from MamaPagan with the straps moved in and the straps on this are about an inch further out. This makes the cups gape on me, mostly at the gore. If I do not angle the straps in, the gaping is removed but the straps are almost off my shoulders. This gaping is not noticeable under a shirt, so it is acceptable. The straps are not rubbing on my tail of spence so I'm not sure if I want to move them in myself.

Visually this bra is quite pleasing, it's a lovely mint colour with a nice lace ribbon detail on the straps. The center gore is marked with a silver coloured metal C with a white gemstone. The band on this one stretches to about 28.5", and is comfortable on the loosest set of hooks. The cups are 8.5" tall in the middle, but because of the gaping it feels like the cup is taller at the gore when it's around average for this cup size.

I think Comexim did a pretty good job on this bra other than not moving the straps in, I am quite happy with this one.
Updated on Mar 23, 2019 Flag this
---
Fit information
On Jul 2019
Way too shallow at wire
Center gore placement:

Doesn't lie flat against sternum


Strap separation:

Are too far apart

On Jan 2019 It fit her!
Bras that fitted her next to this