Pictures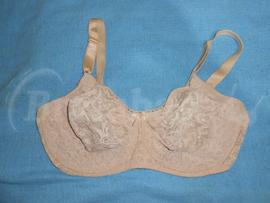 Measurements
Measurement
Cm
Search by measurements
Fits ribcage
0.0
B. perimeter
0.0
Stretched Band
0.0
Band Length
72.4
Stretch ratio
0.0
Cup width
17.8
Cup depth
27.9
Depth ratio
1.6
Wire length
33.0
Cup height
0.0
Cup separation
1.9
Gore height
10.2
Wing height
11.4
Strap width
1.9
Hooks
4
Compare to your bras
Labeled as
Review
This bra is so comfortable. It is a seamless underwire. The whole body of the bra is made of soft stretch lace. 4 hooks in the back Non-padded, full coverage cups made of stretchy lace that the rest of the bra is made of.
Updated on Nov 30, 2015 Flag this
---
Fit information
On Feb 2017 It fit her!
On Sep 2015 It fit her!
On Nov 2014
Top of the cup:

Wrinkles, can't quite fill it


Cup's width:

There is empty fabric on the sides (Cup too wide)

Bras that fitted her next to this