Pictures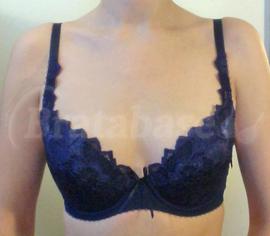 Measurements
Measurement
Cm
Search by measurements
Fits ribcage
0.0
B. perimeter
0.0
Stretched Band
78.7
Band Length
61.0
Stretch ratio
1.3
Cup width
13.2
Cup depth
17.8
Depth ratio
1.3
Wire length
19.7
Cup height
0.0
Cup separation
2.5
Gore height
3.8
Wing height
8.3
Strap width
1.3
Hooks
2
Compare to your bras
Labeled as
Review
A great fit! Maybe not a t-shirt bra, but good for under blouses and sweaters. This bra works wonderfully for my shallow shape and is nicely (and subtly) uplifting. I love the detail lacing on the wings, even though I'm not the biggest fan of the lace edging on the cups. The bra looks solidly constructed, and the lacing on the wings is impressively reinforced. I'll definitely be adding this style to my bra rotation.
Updated on Jan 05, 2015 Flag this
---
Fit information
On Jan 2015 It fit her!
Bras that fitted her next to this