Pictures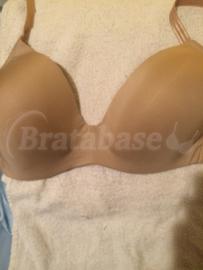 Measurements
Measurement
Cm
Search by measurements
Fits ribcage
0.0
B. perimeter
0.0
Stretched Band
0.0
Band Length
64.0
Stretch ratio
0.0
Bust perimeter
101.6
Cup width
25.4
Cup depth
27.9
Depth ratio
1.1
Cup height
0.0
Cup separation
2.5
Gore height
6.4
Wing height
12.2
Strap width
2.0
Hooks
3
Compare to your bras
Labeled as
Review
I bought this bra to wear with a few corsets that come up higher on my torso and make an underwire very uncomfortable. This is probably one of the few 't-shirt' bra styles that I'll admit to liking. The modified plunge style cut makes it wearable with many deeper necklines while still being full coverage enough to not risk a wardrobe malfunction when worn with a corset. I have the underwire version of this bra as well. I don't know if I'd wear this soft cup sans corset for anything but lounging around but it suits the purpose I intended and creates the desired aesthetic in shaping though the lack of underwire means it provides only moderate support.
Updated on Mar 10, 2015 Flag this
---
Fit information
On May 2018 It fit her!
On Jul 2015 It fit her!
On Aug 2014 It fit her!
Bras that fitted her next to this