Pictures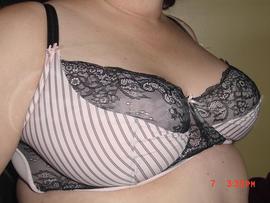 Measurements
Measurement
Cm
Search by measurements
Fits ribcage
0.0
B. perimeter
0.0
Stretched Band
105.0
Band Length
79.0
Stretch ratio
1.3
Cup width
19.0
Cup depth
34.5
Depth ratio
1.8
Wire length
34.3
Cup height
0.0
Cup separation
2.0
Gore height
9.0
Wing height
14.0
Strap width
1.5
Hooks
3
Compare to your bras
Labeled as
| | |
| --- | --- |
| Index | 38:9 |
| FR | 100I |
| JP | J85 |
| IT | 4G |
| US | 38I |
| AUS | 16GG |
| UK | 38G |
| EU | 85J |
Review
I love this bra. It's so pretty, with the pink and black colourway, with the lace on the unlined upper cup. I feel very well supported and very sexy at the same time. I still get the jiggle I love with the support from the padding in the bottom of the cup.

The band is quite tight but liveable. I can always use an extender if needed.

This bra seems to work very well with my shape, and gives me a terrific profile.
Updated on Feb 07, 2015 Flag this
---