Pictures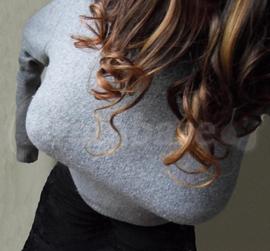 Measurements
Measurement
Cm
Search by measurements
Fits ribcage
0.0
B. perimeter
0.0
Stretched Band
115.0
Band Length
104.0
Stretch ratio
1.1
Bust perimeter
148.0
Cup width
28.0
Cup depth
45.0
Depth ratio
1.6
Cup height
0.0
Cup separation
0.0
Gore height
16.0
Wing height
18.0
Strap width
2.6
Hooks
5
Compare to your bras
Labeled as
Review
Made in USA june 1994 with semi bullet form
magnify the bust perimeter
I love this high portage and the confort.
High efficiency of the flat BANDERIN to regain the weight and relieve shoulder strap.
for me I prefere the band lenght of my 44JJ and the cup depht of my 46K !


Updated on Feb 14, 2014 Flag this
---
Fit information
On Jan 2014
Center gore placement:

Doesn't lie flat against sternum


Strap separation:

Not a problem

She hasn't added any bras that fit her correctly.