Pictures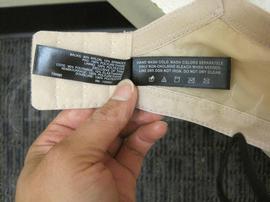 Measurements
Measurement
Cm
Search by measurements
Fits ribcage
0.0
B. perimeter
0.0
Stretched Band
83.0
Band Length
67.2
Stretch ratio
1.2
Cup width
16.0
Cup depth
22.8
Depth ratio
1.4
Wire length
24.1
Cup height
0.0
Cup separation
2.4
Gore height
2.4
Wing height
9.4
Strap width
1.5
Hooks
3
Compare to your bras
Labeled as
Review
I just purchased this Natori Reflex push-up bra, and I'm wearing it at home, with tags on, to see if I want to keep it. It's definitely the best fit for me out of the plethora that I tried on at Nordstrom Rack today.

My ribcage is 27" around, upon exhaling, but 28" normally. However, I am so accustomed to wearing 36D bras that almost all of the 30 bands felt uncomfortably tight. I can actually fit my whole hand between this band and my back, but I think that the band is nevertheless staying in place at the loosest hook setting, and it's pretty comfortable (it'll take me some time to get used to even this much constriction, I think).

There is some padding in the bra, towards the bottom and lateral side (nearer to the arm than the sternum). The underwire (and padding) come right up under the roots of my breasts, so that's comfy. The gore seemed to tack to my sternum earlier, but the top of the gore is now leaning away from my chest, slightly.

I seem to have a very minimal amount of quadboob when inhaling, but not when I've exhaled, as I tried to demonstrate in the photos from above. I feel like the line is pretty smooth.

I do still have quite a bit of underarm fat, but I don't know that I'd want the side of the bra to come up any higher, as some of the bras I tried with higher sides chafed the undersides of my upper arms, and I'm happy that this one doesn't do so. What do you folks think? Should I keep looking for something that will contain my underarm fat better?

I'm pretty pleased with the shape this gives me (some projection, not too flattened to the sides, nor too pointy), as well as the smooth lines under clothing. Hooray for no nipple show-through!

The straps seem to be nicely adjustable for my short torso, and stay up without any problems despite my sloped shoulders.

A girlfriend who is helping me to assess the bra thinks that it looks better under tops without any gathering at the neckline (as if the projection is too pronounced under tops with gathering...).

Any tips or thoughts about whether I'd be better off keeping or returning this one would be appreciated!
Updated on Oct 06, 2013 Flag this
---
Fit information
On Sep 2013 It fit her!
Bras that fitted her next to this