Pictures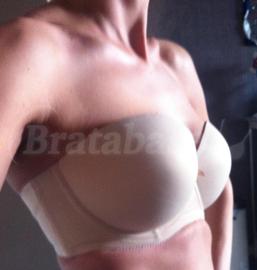 Measurements
Measurement
Cm
Search by measurements
Fits ribcage
0.0
B. perimeter
0.0
Stretched Band
75.0
Band Length
60.0
Stretch ratio
1.3
Cup width
13.5
Cup depth
20.5
Depth ratio
1.5
Wire length
24.5
Cup height
0.0
Cup separation
2.0
Gore height
7.0
Wing height
10.0
Hooks
3
Compare to your bras
Labeled as
| | |
| --- | --- |
| Index | 28:7 |
| EU | 60F |
| US | 28F |
| FR | 75F |
| AUS | 6F |
| UK | 28F |
Review
Great! It's a lot tighter than my Panache Porcelain Moulded strapless... it feels firm and it feels like it should stay put.

Sadly the cup is a tiny bit too big at the moment, but I'll make do with that, it's fine when I put the straps on.
Updated on Aug 15, 2013 Flag this
---
Fit information
On Dec 2013 It fit her!
On Sep 2013
Top of the cup:

Wrinkles, can't quite fill it

On Aug 2013
Top of the cup:

Wrinkles, can't quite fill it

On Aug 2013
Top of the cup:

Wrinkles, can't quite fill it

Bras that fitted her next to this