Pictures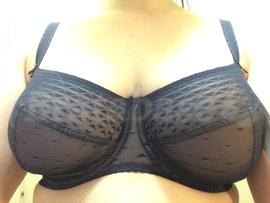 Measurements
Measurement
Cm
Search by measurements
Fits ribcage
0.0
B. perimeter
0.0
Stretched Band
81.0
Band Length
63.0
Stretch ratio
1.3
Cup width
14.0
Cup depth
28.0
Depth ratio
2.0
Wire length
28.5
Cup height
0.0
Cup separation
2.0
Gore height
9.0
Wing height
10.0
Strap width
1.7
Hooks
2
Compare to your bras
Labeled as
Review
Me: Narrow roots, narrow shoulders, evenly round, lots of immediate projection, slightly FoB, slightly centre full, splayed, never met a gore I didn't like, left-heavey by more than a cup size, 31" underbust, but prefer tight band with extender. Panache, Freya size 30GG

I am so disappointed. This is the band size up from my 65J- which was perfect except I couldn't close it without an extender. Now, the band is right, but the straps are too far apart, and the cup width is wider. I have a little quading so I might try the 65K - which bumps up into Gaia's Maxi category - three hooks plus thicker straps. I still love the design. Try again I guess.
Updated on Nov 17, 2016 Flag this
---
Fit information
On Nov 2016 It fit her!
Bras that fitted her next to this