Pictures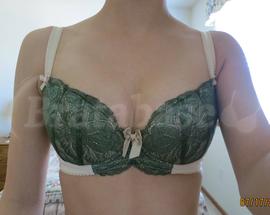 Measurements
Measurement
Cm
Search by measurements
Fits ribcage
0.0
B. perimeter
0.0
Stretched Band
63.5
Band Length
45.7
Stretch ratio
1.4
Cup width
13.0
Cup depth
20.8
Depth ratio
1.6
Wire length
21.6
Cup height
0.0
Cup separation
2.0
Gore height
5.3
Wing height
9.9
Strap width
2.0
Hooks
3
This bra's measurements have been altered

Reduced gore, 3 hooks, thicker straps
Compare to your bras
Labeled as
Review
Yay! My Comexim bra has finally arrived! I fell in love with this bra after seeing lcl0706 's review of it, but I waited a month before ordering..and then a month and a half later, I received it!
I did order some customizations. A * denotes that I'm not sure if the alteration was applied.
-Extra reduced gore
-Reduced cups*
-Straps moved in 1cm*
-Narrowed gore*
-3 hooks
-Thicker straps
- Cookie Pockets
It gives the most amazing lift, and I get fabulous cleavage, which is partially due to the cups being too small. I may have to try future Comexims in 55J as all of the 55HH's I own are a smidge too small.
This is exactly the kind of bra I need though. Vertical seams, low(ish) gore, and thick straps. The wires are medium narrowish and slightly stiffer than the plunges I own. Pretty overjoyed as I got this custom made bra for only $38 shipped. I will definitely be purchasing more 3HC cuts in the future.
Updated on Jul 17, 2016 Flag this
---
Fit information
On Jul 2017 It fit her!
On May 2016 It fit her!
Bras that fitted her next to this