Pictures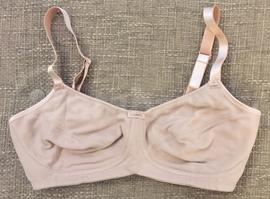 Measurements
Measurement
Cm
Search by measurements
Fits ribcage
0.0
B. perimeter
0.0
Stretched Band
80.0
Band Length
62.2
Stretch ratio
1.3
Bust perimeter
0.0
Cup width
0.0
Cup depth
0.0
Depth ratio
0.0
Cup height
0.0
Cup separation
0.0
Gore height
8.9
Wing height
10.2
Strap width
1.3
Hooks
2
No measurements to compare
Labeled as
| | |
| --- | --- |
| Index | 32:4 |
| EU | 70D |
| FR | 85D |
| UK | 32D |
| US | 32D |
Review
This is my first cotton bra. I tried it in a 34C and it was way too stretchy. This 32D is a tad snug, but I suspect it will stretch out fast.
It has side boning.
Very comfortable, basic, beige bra.
I'm a little worried that the cotton might prevent clothes from gliding over my bust, but it's not that highly of a concern, to be expected. I expect pilling to occur after several washings/wearings.
Updated on Nov 05, 2015 Flag this
---