Pictures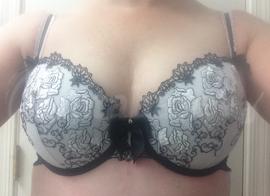 Measurements
Measurement
Cm
Search by measurements
Fits ribcage
0.0
B. perimeter
0.0
Stretched Band
83.8
Band Length
67.9
Stretch ratio
1.2
Cup width
15.2
Cup depth
21.6
Depth ratio
1.4
Wire length
23.5
Cup height
0.0
Cup separation
3.2
Gore height
5.1
Wing height
9.5
Strap width
1.6
Hooks
3
Compare to your bras
Labeled as
| | |
| --- | --- |
| Index | 32:6 |
| EU | 70E |
| UK | 32E |
| US | 32DDD |
Review
This bra is just absolutely stunning. I fell in love with the lush black and white contrasting embroidery and decided to take a chance on a completely unknown (to me) brand. BraStop had it on sale and I'm so glad that I tried this one. It fits really well and is so comfortable. The description of the bra only said it was padded, so I was surprised to find out it also has small push up pads incorporated into the bottom padding of the bra. It's not over the top, just gives a little extra lift and cleavage.

The detailing on this bra is just spectacular. The embroidery, lace, and bows are all finely crafted and luxurious looking. It has really interesting straps. The front, non-adjustable portion of the strap is a white firm elastic that is only about 0.25" (1/4") in width and is stabilized on the front with a black ribbon of about the same width. The white ruffle on each side of the strap extends the width to about 0.625" (5/8"). Despite the thinness of the actual loadbearing part of the front strap, it doesn't dig in to me at all and feels comfortable. The back, adjustable part of the strap is a standard 0.5" (1/2") black elastic.

The back of the cup is a molded cup that is thinly padded everywhere except for the extra thickness of the push up pad at the very bottom of the cup. The front of the cup is made of white mesh with one vertical seam up the center. The white embroidered flowers on the front are almost silvery white and have a lovely shimmer to them in the light.

The gore width on this bra is a little wider than I'm used to at 1.25", but it doesn't seem to cause me any problems (my breasts are a normal width apart, about 1.5 -2 fingers in between). The band seems to stretch a little bit more than my other 32 band bras, but not by much. I can wear it comfortably on the loosest hook. The wires feel fairly wide to me, which is good news for my wide roots. Underwires are somewhat flexible but not overly so. I think the embroidery on the front would probably show through on really thin or tight shirts, as it is just slightly raised, but should be fine under shirts with regular fabric.

Just a gloriously beautiful bra that I love for it's fine crafting as much as the lovely fit.
Updated on Sep 10, 2015 Flag this
---