Pictures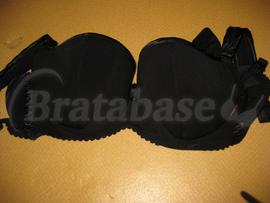 Measurements
Measurement
Cm
Search by measurements
Fits ribcage
0.0
B. perimeter
0.0
Stretched Band
74.0
Band Length
63.0
Stretch ratio
1.2
Cup width
14.0
Cup depth
24.0
Depth ratio
1.7
Wire length
22.0
Cup height
0.0
Cup separation
3.0
Gore height
6.5
Wing height
9.0
Strap width
3.5
Hooks
2
Compare to your bras
Labeled as
Review
Great bra. Comes with three straps: normal, thick and padded, and a long strap to make into a halter neck bra.
Updated on Mar 15, 2013 Flag this
---
Fit information
On Sep 2013
Strap separation:

Not a problem


Top of the cup:

Cuts into breast tissue (quad boob effect)

On Feb 2013 It fit her!
Bras that fitted her next to this