Pictures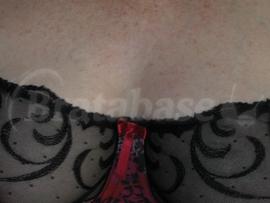 Measurements
Measurement
Cm
Search by measurements
Fits ribcage
0.0
B. perimeter
0.0
Stretched Band
0.0
Band Length
67.3
Stretch ratio
0.0
Cup width
15.9
Cup depth
30.2
Depth ratio
1.9
Wire length
31.8
Cup height
0.0
Cup separation
2.3
Gore height
8.9
Wing height
10.2
Strap width
2.3
Hooks
2
Compare to your bras
Labeled as
| | |
| --- | --- |
| Index | 32:9 |
| EU | 70G |
| UK | 32G |
| FR | 85G |
| AUS | 10G |
| US | 32G |
Review
Bought used off e-Bay, so measurements reflect light wear. I use the last hook, which is odd because on Fantasies I have worn for months I still war on the loosest hook. No top quad boob, and I love the side boning/support. However, I am starting to see quad boob on the inside of the cup. My boobs are close set but not incredibly close, but I am falling towards the middle more.

Very pretty dark red/maroon and black--just wish the straps were maroon and not black.

Same style as Lizbeth, just different color. Everything else is identical.

Update: alas, after a few hours of wearing, I get more of an upside down 7 look.
Updated on Mar 06, 2013 Flag this
---
Fit information
On Oct 2012 It fit her!
Bras that fitted her next to this